Introduction: The History and Significance of the Taj Mahal
The Taj Mahal is an iconic monument that has been an integral part of India's culture for centuries. Built in the 17th century by Mughal Emperor Shah Jahan, it was meant to be a symbol of love and devotion to his beloved wife. It is one of the most visited monuments in the world and serves as a reminder of the grandeur and beauty of Mughal architecture. Its historical significance is undeniable: it stands as a testament to the power and influence of the Mughal Empire during its time, as well as being a symbol of love and devotion that continues to inspire people today. Join us on this Private day trip to Taj Mahal from Delhi of India's most famous landmark and discover why it's one of the world's most beloved tourist destinations.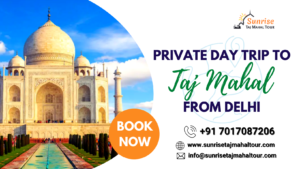 Highlights of a Private Taj Mahal Tour from Delhi:
Delhi is the perfect starting point for a private tour of the iconic Taj Mahal. From here, you can explore this majestic monument, its beautiful gardens, and its rich history. This tour will give you an insight into the incredible architecture of the Taj Mahal, as well as a chance to learn more about its fascinating past. You will also be able to take in breathtaking views from different angles and enjoy some memorable experiences along the way.
What to Expect During Your Private Taj Mahal Tour:
A visit to the Taj Mahal is an experience of a lifetime. It is one of the most iconic monuments in the world and a must-visit destination for anyone who loves history, architecture, and culture. On your the Taj Mahal Day Tour, you can expect to be amazed by its beauty, learn about its history and significance, and take in all that it has to offer. From exploring the grounds to taking pictures inside, your tour of the Taj Mahal will be an unforgettable experience. As you explore this majestic monument, you will learn about its architectural features, such as its four minarets, its intricate marble carvings, and it's beautiful gardens. You will also have time to shop for souvenirs at nearby markets or enjoy a cup of chai at one of Agra's many cafés. Whether you are visiting for a day or staying longer in Agra, your visit to the Taj Mahal promises to be an unforgettable experience!
Tips and Tricks for Planning Your Perfect Taj Mahal Tour:
Are you planning a trip to the Taj Mahal? With its breathtaking architecture and rich history, it is no surprise that the Taj Mahal is one of the most popular tourist destinations in India. To make sure you get the most out of your visit, here are some tips and tricks for planning your perfect Taj Mahal tour.
From choosing accommodations to deciding which attractions to visit, there are a lot of things to consider when planning your trip. With these tips and tricks, you can make sure that your journey is as smooth and enjoyable as possible. From selecting an ideal time to visit, to finding the best deals on flights and hotels, we'll provide all the information you need to plan your Private day trip to Taj Mahal tour.
Conclusion:
As a conclusion, at the end of the tour, you may have a sense of the entire travel experience. If you visit the Same Day Taj Mahal Trip by Car, you may now enjoy the entire journey and see more of the city's splendour. You will be able to admire the magnificence of the city in comfort because the entire trip will take place in an air-conditioned car.