Same Day Taj Mahal Agra Tour By Car from Delhi – Exploring The Natural Beauty of Agra
Visiting The City Of Agra And Exploring The Natural Beauty Of This Ancient Mughal Capital City Is The Dream of Many Travel Enthusiasts Worldwide. This City Has A Lot To Offer To Its Visitors, But One Thing That Sets It Apart From Any Other City In India Is The Seven Wonders Of The World Taj Mahal. This Vast White Monument Is The Reason Why Millions Of Tourists And Travelers Visit Agra Every Year.
If You Plan Your First Trip To India, You Should Consider Getting A Pre-Planned Tour Package. There Are A Lot Of Benefits That You Can Get When Traveling Through A Pre-Planned Tour Package. With Such Tour Packages, You Don't Need To Worry About All The Formalities And Necessities That Go With Traveling To A Foreign Country.

Due To The Popularity Of This City, You Can Easily Find Many Different Tour Package Options Online. You Will Get The Options Such As Same Day Agra Tour By Car Or Same Day Agra Tour By Train. You Can Pick The One That Suits Your Preferences And Taste. Each Tour Package Will Provide You With A Different Experience, So Make Sure You Choose After Thorough Consideration.
To Help You Make Your Choice More Accessible, We Have Prepared A Detailed Itinerary Of The Same Day Taj Mahal Tour By Car To Give You An Idea Of What You Will Get To Experience In Such Tour Packages.
Here Is A Detailed And Quick Overview Of The Same Day Agra Tour By Car:
Pick Up From Hotel And Drive To Agra
You Will Meet Your Tour Guide And Driver At The Delhi International Airport Or The Pick-Up Location You Have Provided In Such A Tour Package. They Will Give You A Briefing And Then Take You To The City Of Agra Through The Delhi-Agra Expressway. It Will Be A 3 Hours Drive In Which You Can Enjoy The Countryside View Of India. You Will Begin This Journey Around 8 Am In Arrive At Agra By 11 Am.
Proceed To Taj Mahal
Arriving In Agra, The First Monument That You Will Get To Explore Is The Taj Mahal. It Is Located In The City Center, And The Place Is Flocked With Many Tourists And Travelers. Your Guide Will Get The Tickets For You, And Then You Can Make Your Way To Explore And Enjoy The Natural Beauty Of This Grand Monument. Taj Mahal Was Built In The 16th Century By The Mughal Emperor Shah Jahan In The Memory Of His Wife, Mumtaz Mahal. This Is The Reason Why It Is Also Called The Symbol Of Love. It Is Wholly Made With Marble, And Its Unique Indo-Islamic Architecture Is Something That You Cannot Find Anywhere Else In The Whole World.
After Taj Mahal – Proceed To Agra Fort
After Enjoying The View Of The Taj Mahal, We Will Make Our Way To The Agra Fort. Agra Fort Is A Gigantic Fort Located Near The Taj Mahal. It Is Made With Red Sandstone And Is Considered To Be A UNESCO World Heritage Site. This Monument Was Built As An Army Camp By Mughal Emperor Akbar During The Early 15th Century, And Later It Was Also Used As The Residence Of The Royal Mughal Family. You Will Get To See Many Beautiful Gardens And Old Weapons Inside This Fort, Along With Experiencing Its Unique Architectural Style.
You Can Catch A Beautiful View Of The Taj Mahal On The Other Side Of The Yamuna River From The Terrace Of This Fort. That Is Why Aurangzeb Used This Fort To Imprison His Father, Shah Jahan, During The Final Years Of His Life.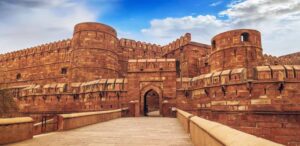 Lunch Break
After Exploring Both Of The Monuments Mentioned Above, Your Guide Will Take You To A Local Luxury Restaurant Where You Can Enjoy Mouth-Watering Delicacies.
Visit Itmad-Ud-Daulah (Baby Taj)
After Lunch, You Also Have The Option Of Exploring Itmad-Ud-Daulah, Popularly Known As The Baby Taj. Noor Jahan Built This Monument In The Memories Of Her Parents. It Was Also Used As A Model For The Architectural Style Of The Taj Mahal. Its Unique And Beautiful Design Is Something That Leaves Every Visitor In Awe.
Keep In Mind That This Is An Optional Destination, And You Can Skip It Altogether And Move To Your Next Destination If You Are Tired And Wish To End The Trip.
So These Are All The Heritage Sites That You Can Explore In The Same-Day Agra Tour By Car. Keep In Mind Many Other Tourist Destinations In Agra Are Worth Exploring, But These Are Only Once That You Can Explore Without Getting Exhausted In A Single Day.
We Hope You Find This Article Helpful While Planning Your First Trip To India.